OTIS REDDING FUNERAL
18 décembre 1967, Macon (Géorgie)
MACON CIVIC AUDITORIUM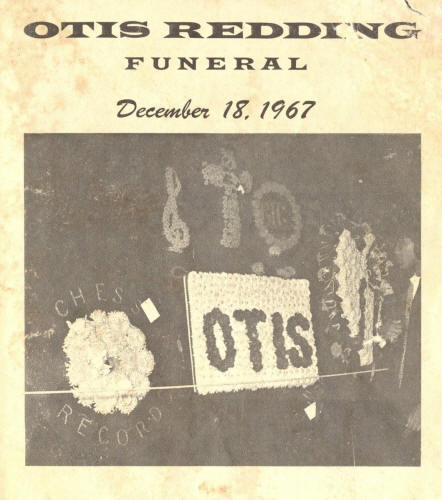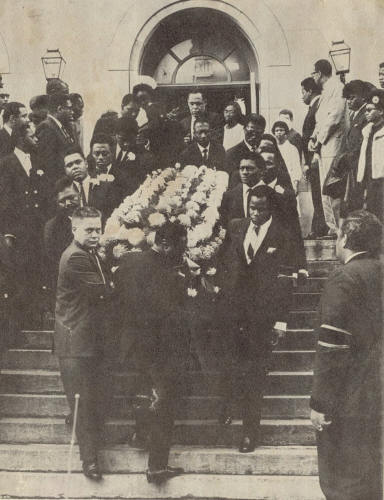 Compliments of Radio Station WAOK - KESSLER'S RECORD DEPT.
Photo's by COUNT JACKSON
Young and old loved the "BIG O"
and came to see him for the last time

Many had to wait in long lines

Record Company executive and former singer
Joe Medlin arrives

Little old lady who played the prelude

Singer Joe Tex arriving

Wilson Pickett arriving

Georgia State Senator Leroy Johnson arriving
Senator Johnson was Otis' attorney

Singer Percy Sledge arriving

Atlanta's Arthur Conley
who owes his succes to the "Big O"
John Richbourg, knows as "John R"
Disc Jockey WLAC, Nashville, Tenn.

Singer Rufus Thomas with Eddie Purrel

Phil Walden, Otis' manager and school mate
talks to friends as he enter the auditorium
Disc Jockey Buddy Lowe from Houston, Texas

The Mighty Hannibal, Eddie Purrell,
and Johnnie Taylor pay tribute to a friend

Dick Allen, Universal Attractions (Left)
Entertainer Eddie Purrell
Entertainer Little Sputnick, Disk Jockey
Shelly Stewart, and Atlanta radio executive
Kathy Lewis among the many

Singers Sam and Dave

Singer Jamo Thomas (left)
Disc Jockey Allen Lee, Montgomery, Ala.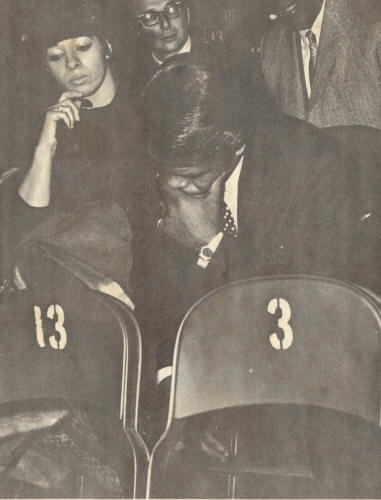 Singer James Brown
sits prayerfully during the funeral

The 3 ministers who officiated

B B Beaman
Atlanta restaurateur and promoter

Funeral Director assisting Mrs. Otis Redding
into the Macon Civic Auditorium before the
services. Otis'younger brother (right)
Karla, Otis III and Dexter, the children
of Otis Redding arriving for the funeral

Rev. and Mrs. Otis Redding, Sr,
mother and father of Otis Redding
An interior view of the main floor
of the Macon Civic Auditorium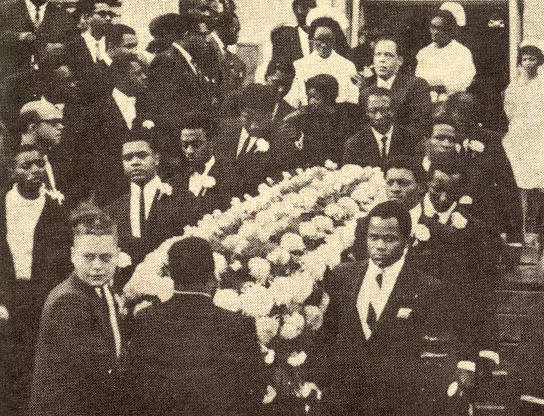 Singer Joe Simon (middle) talks with other
pall-bearers before the services

Singer Oscar Toney, Jr.

Singer Gene Chandler

After the last rites
the wife of the singer being escorted to her car
AN EXPRESSION OF SADNESS
(Left) Wilson Pickett (Right) Solomon Burke
Crowd wainting for limousines
going to the "BigO" ranch for burial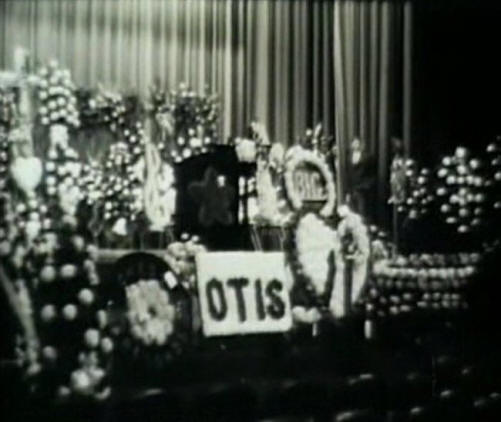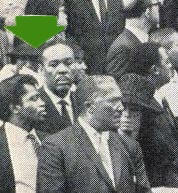 le porteur de cercueil honoraire James Brown (flèche) regarde tristement
alors que les porteurs Joe Tex, Joe Simon, Sylvester Huckadee, Johnnie Taylor,
Arthur Conley, Solomon Burke, Eart Simms, Clark Waldon sortent le corps de l'auditorium.

voir également le reportage du magazine JET du 4 janvier 1968