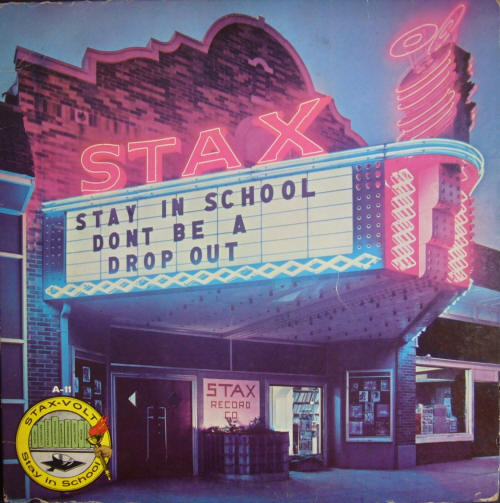 STAY IN SCHOOL fut enregistré pour faire partie de l'album Stax A-11 (uniquement promotionnel), il fut pressé à quatre mille exemplaires, aussi appelé STAY IN SCHOOL, enregistré pendant la première moitié de 1967 et envoyé en Août par le ministère du travail aux bibliothèques des lycées à travers les Etats-Unis, aux disc-jokeys et aux radios, à l'appel du ministre Willard Wirtz. La plupart des artistes majeurs de Stax, dont Carla Thomas, Eddie Floyd, William Bell, Sam & Dave et les Mar-Keys, contribuèrent par une courte apparition parlée, encourageant les enfants à continuer leur éducation. Typiquement, Otis alla plus loin, en improvisant une courte chanson sur le coup, s'accompagnant à la guitare acoustique et y ajoutant les cuivres des Mar-Keys plus tard. STAY IN SCHOOL communique merveilleusement la personnalité d'Otis, particulièrement quand il entre dans son mode de routine de "disque rayé" à la fin du morceau, répétant "when they get there if they make it" trois fois. "Quand ils y arriveront s'ils y arrivent"

Si tu n'es pas retourné à l'école cette année / Tu n'es vraiment pas dans le vent : Peut-être que tu penses que l'école c'est nul. / Ca ne te touche vraiment pas / Mais as-tu imaginé combien tu auras l'air bête / En train de faire la queue pour du boulot / Parce que l'école ne t'intéresse pas ? / Tu devrais vraiment penser à ça. / Sans éducation tu ne peux être qu'un clochard/ Vieilles chaussures, pas de coupe de cheveux, juste un plouc. / T'inquiètes pas si les types du coin de la rue te traitent de naïf/ Parce que tu améliores ta future situation / Tu devrais vraiment y penser / Et en plus dis le qu'Otis Redding dit / que tu es malin parce que tu seras au top quand / Ils parviendront ici, s'ils y arrivent, s'ils y parviennent.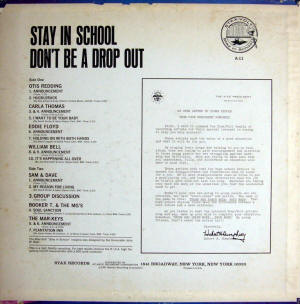 cliquer pour agrandir

( Roy Alfred & Andy Gibson )
Here we come again, y'all
Gonna do the dance, a real stone dance
Everybody, sisters, brothers, mothers
Papas doin't it, a stone dance
You know what to do
It's called the huckle-buck
The huckle-buck, y'all
Real stone dance, now
Come on and take my hand
Come on and huckle-buck with me
Now watch me
We're goin' to new places now
Atlanta, Georgia
Here we come, the Royal Peacock, y'all
Miami, Florida
Goin' to the Allen Club
Step over into Memphis
Going to the Hippodrome
Everybody's swingin' to the Markee's
Goin' down yonder
Goin' to California
Goin' to the ... Ballroom
Step over, step over in Detroit City
Going to the Twenty Grand Club
Move over, Washington, D.C.
We're goin' ti the Howard Theatre
Huckle-buck, y'all
The huckle-buck, y'all
The huckle-buck, now now no
Get it, get it, get it
Get it, Get it, get it
Get it, get it, get it
Rake it, take it, rake it
Everybody huckle-buckin'
Do it, y'all, if you don't know
You're sure out of luck
I'll tell you what we do
We're goin' to Chicago
We're goin' to the big city
Windy City they call it
Goin' to do the huckle-buck now now
Got to, got to, everybody's hucking now
Mothers, brothers, sisters, fathers
They huckle-buckin', all right now
We got a thing goin'
You jump back, you jump forward
You jump back, back, back, back
Huckle-buck, now huckle-buck, y'all
Let me show you how to do it
Jump back, jump up
Jump back, jump up, up, up, up, up
Huckle-buck now ...
...


retour à la page d'accueil "chansons/lyrics"